Eat much less sugar to avoid obesity and tooth decay, says WHO
Comments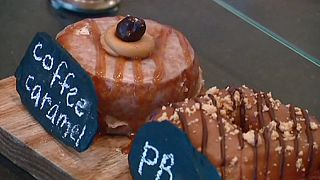 The sight of sugary doughnuts and crispy pastries can be tempting and tantalising.
It has long been known that too many such tasty treats are bad for people, due to warnings from experts of the dangers of too much sugar.
Now the World Health Organisation says adults and children should cut their sugar intake by around a half.
The WHO's recommendations cover free sugars such as glucose and fructose, and sucrose or table sugar added to processed foods and drinks. They do not cover sugar found naturally in fresh fruit, vegetables and milk.
Its proposals, based on the latest scientific research on the link with obesity and tooth decay, are not only aimed at individuals.
"They are addressed to governments, who will establish policies to support and enable people to make those right choices, such as establishing taxation policies on sugary rich foods and beverages, curbing the marketing of foods rich in sugar, salt and fat, having clear labels on the food products and having a dialogue with the food industry to reduce sugar content of food products," said Francesco Branca, Director of the WHO's Department of Nutrition for Health and Development.
As a guide, a single can of soft drink can contain almost the total new daily recommended amount of sugar.
The new guidelines suggest 50 grams or 12 teaspoons of sugar – less than 10 percent of daily energy intake – are about right.
In Britain people consume on average well over that amount – 16-17 percent. In Portugal intake soars to nearly 25 percent, according to the WHO.
The current average sugar intake in South America was 130 grams per adult per day, in North and Central America 95 grams, in Western Europe about 101 grams and 90 grams in the Middle East, Branca said. Equatorial and southern Africa has the lowest average of 30 grams.
"Where do we find free sugars, in reality we find them in a large number of products, in fact in the majority of products," he added.
The WHO goes even further, saying a cut in sugar consumption to less than five percent of daily energy intake would help prevent chronic diseases such as heart disease, cancer and diabetes.
Not everyone agrees with the WHO. The Sugar Association, a US trade group, criticised the new guidelines in a statement, claiming that they use "weak and inconsistent data".