Netanyahu warns US Congress against Iran nuclear deal
Comments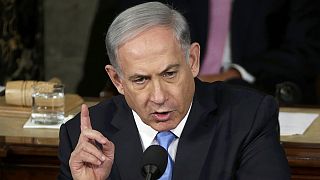 Israeli Prime Minister Benjamin Netanyahu has warned the US Congress that the nuclear accord being negotiated with Iran would help the Islamic Republic develop atomic weapons.
We must all stand together to stop Iran's march of conquest, subjugation and terror
Urging the US and other powers to hold out for a 'better deal', he
insisted that Iran posed a threat not only to Israel, but to the Middle East and the world.
"We must all stand together to stop Iran's march of conquest, subjugation and terror," Netanyahu said in a 39-minute speech punctuated by standing ovations.
Republican House Speaker John Boehner invited Netanyahu to make the address to the joint Houses of Congress in a session boycotted by dozens of President Barack Obama's fellow Democrats.
Netanyahu's appearance in Congress was not agreed in consultation with the Obama administration and relations between traditional allies Israel and the US have been strained.
Netanyahu said a nuclear deal with Iran would be a "countdown to a potential nuclear nightmare" by a country that "will always be an enemy of America".
"If the deal now being negotiated is accepted by Iran, that deal will not prevent Iran from developing nuclear weapons – it will all but guarantee that Iran will get those nuclear weapons – lots of them," he said.
Netanyahu said Iran's regime was "as radical as ever," could not be trusted and the deal being worked out with world powers would not block Iran's way to a bomb "but paves its way to a bomb".
At the start of the speech, he said he was grateful to Obama for his public and private support of Israel, including US military assistance and contributions to Israel's Iron Dome anti-missile system.
Netanyahu's address comes two weeks before Israel's closely-contested general election.