EOC President: European Games will help athletes perform better at Olympics
Comments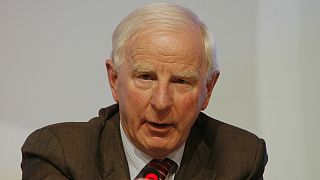 The President of the European Olympic Committee, Patrick Hickey, has said in an exclusive interview with Euronews that the inaugural European Games will be a huge success and will help athletes perform better at the Olympic Games.
Unlike other continents which already have multi-sport events such as the Asian or Pan-American Games, the Baku 2015 Games, held from June 12-28, will be the first of its kind in Europe.
So far, everything seems to be going to plan. After the conclusion of the 5th Coordination Commission last week, Hickey was happy to report that there was no cause for concern.
"Over two days in Baku we received comprehensive briefings from all the key Baku 2015 directorates and the Commission enquired extensively into the potential challenges which every multi-sport events host face.We were very happy with our findings."
The construction of the venues – more often than not an issue for major event organisers – was also going well, he said.
"Construction and upgrading of venues across Baku 2015's 18 venue sites is on track. They have delivered on all their construction targets so far and I have every confidence the same will be true for the final details and finishing touches."
Yet so far, the organisers have been unable to secure the participation of many of Europe's highest profile swimmers or track and field athletes, a drawback for any sports event.
"When you consider that when we set out to stage the first European Games, we were only aiming for 10 sports. We are now up to 20, and we had to turn six away – that shows just how much excitement there has been among the European Federations," he said.
"For 2019 I am very confident that the best European athletes will be competing in both athletics and swimming, particularly as this summer will show Europe how exciting this new addition to the sports calendar really is."
But what Hickey appears to be most excited about is that the European games will not simply be a smaller-scale replica of the Olympic Games.
"The concept of the European Games involves promoting innovation in sports. This means that at Baku 2015 there will be many markedly different aspects to the hosting concept compared with an Olympic Games," he told Euronews.
"With the European Games model, we want to keep the flexibility to incorporate sports to the programme which might draw particularly big home crowds, or where there are promising young local athletes."
For example, the sports programme will include events not normally seen at the Olympics, such as basketball 3×3, beach soccer and Sambo, as well as a 'street athletics' exhibition, featuring pole vault and the high jump.
Having said that, the European Games will still be essentially an Olympic-styled event. So Hickey thinks it will definitely give competing athletes the best chance for success at the Rio 2016 Olympics, now only one year away.
"The European Games is also a major sporting event in its own right and will offer crucial experience to athletes of balancing training, competing and life in the Athlete's Village."
"Ultimately, we want European athletes to be bringing home more Olympic medals. This experience will leave them better prepared to hit peak performance at the perfect moment in Rio, Tokyo and beyond.​"
On the topic of free press in Azerbaijan, a country under scrutiny for its human rights record and press freedom, Hickey stressed that there will be no limitations on the media in Baku during the Games.
"Our commitment is to uphold the Olympic Charter and promote the Olympic values, and that includes ensuring that all accredited media who are in Baku to report on the European Games will have the freedom to do so."
"I have had every assurance from the authorities in Azerbaijan that the principles of the Olympic Charter will be protected throughout the European Games in June."
Article by Hugo Lowell