200 countries agree on draft to slow climate change
Comments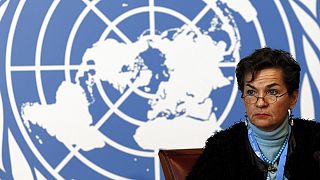 Almost 200 countries have agreed a draft document on how to best slow down climate change.
The blueprint is a first step towards negotiations for a deal to be agreed in Paris later this year which would come into effect in 2020.
The United Nations required an official text six months ahead of the French summit. That text was drafted in Geneva.
"The text has grown, so yes that makes June, which is the next time that they will get together, a little bit more difficult, but it does have the huge value that it is recognised as a formal negotiating text and that all parties will be eager to engage with that text," said Christiana Figueres, Executive Secretary of the United Nations Framework Convention on Climate Change.
Last year was the warmest on record, according to the World Meteorological Organisation. The UN panel of climate scientists says man-made climate change is causing downpours, rising sea levels as ice melts, and extremes of heat.
ICYMI: International #climatechange negotiations are underway #ADP2015 in Geneva. Info on Canada's role unclear. pic.twitter.com/U07oVWWRjM

— Karri Munn-Venn (@KarriMunnVenn) February 10, 2015