Putin to travel to Minsk talks raising hopes of a deal over Ukraine
Comments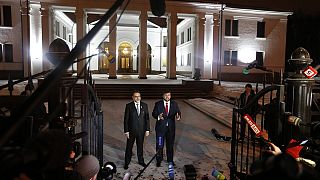 President Putin has confirmed he is travelling to Minsk for crucial peace talks with Ukrainian, French and German leaders.
The presence of the leaders has raised a sliver of hope that a deal may be brokered after a Russian diplomatic source said, "The presidents aren't travelling for no reason."
The talks hinge on re-establishing a ceasefire that lasts, the withdrawal of heavy weapons and Kyiv's consent to give autonomy to Russian-speaking regions, a crucial points for the pro-Russian rebels on the eve of the summit.
A failure to reach a deal could lead to an escalation of the conflict which has already claimed 5,000 lives since it began in April last year.
The meeting is being seen as a last ditch diplomatic push, as the US considers sending weapons to Kyiv, though last night Obama emphasised the need for a political solution in a phone call with Putin.