Bobbi Kristina Brown update: family vigil
Comments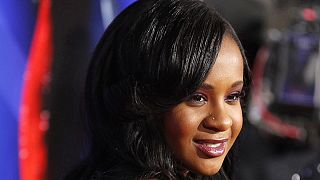 The family of Bobbi Kristina Brown have "held a vigil":http://abcnews.go.com/Entertainment/bobbi-kristina-browns-family-hold-public-vigil/story?id=28831161 to pray for her recovery.
The 21-year-old daughter of the late Whitney Houston has been on life support for more than a week after being discovered unconscious and face down in a bathtub at her home.
Although doctors have given her little hope for recovery, her father, Bobby Brown, says he still "believes she will pull through": http://www.people.com/article/bobby-brown-bobbi-kristina-brown-life-support.
It is almost exactly three years since her mother was found dead in similar circumstances.
Several hundred people gathered inside a venue in Riverdale, Georgia on Monday night, joining in gospel songs and listening to prayers.
A police investigation into the circumstances surrounding Brown's incapacitation is ongoing.