New England Patriots overcome 'Deflategate' to win Super Bowl
Comments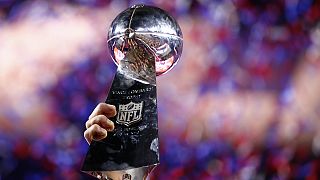 There were celebrations as fans of the New England Patriots exulted in their first Super Bowl victory for ten years – despite a whiff of scandal.
The Patriots beat the Seattle Seahawks 28-24 in American Football's showcase event.
They are being investigated over allegations they tampered with footballs to get there – but supporters leaving the stadium at Glendale in Arizona didn't care.
"Great game, unbelievable to be at in the end, it's thank God the Patriots' defence didn't lose it again, you couldn't pick it, you couldn't make it any better. We flew in from all over the country for this game, it was well worth every penny – amazing," said one New England Patriots supporter.
The Boston side came from behind to win the final in Arizona, thanks to a record-breaking performance from their star player.
Quarterback Tom Brady set new marks for single-game completions (37), most career passing yards (1,605) and career touchdowns (13) to claim a third most valuable player award..
"We blocked great, we made great catches, you know it's a team effort…there's never one player, it took the whole team, we blocked great all day against a great front, made a lot of great catches and a lot of critical plays in the red area so, a lot of guys overcame a lot of mentally-challenging moments, and I'm just proud of the way we overcame it," 37-year-old Brady said afterwards.
It's New England's moment, but for two weeks the sports headlines have been all about "Deflategate", claims that the Patriots deflated footballs to help them overwhelm Indianapolis 45-7 to reach the Super Bowl.
The National Football League – the NFL – is investigating.
Coach Bill Belichick has taken the Patriots to six Super Bowls – a record. In the 20 years since owner Robert Kraft bought the franchise, New England has played in seven Super Bowls, winning four.