Controversy in S. Africa over parole for apartheid death squad leader
Comments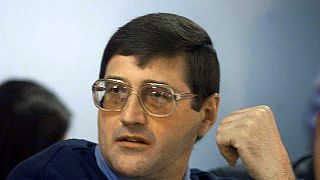 There is a storm of controversy in South Africa after a decision to grant parole to a death squad leader from the apartheid years.
Eugene de Kock has spent more than 20 years in prison for the torture and murder of scores of black South African activists in the 1980s and early 90s.
South Africa News: Public questions Masutha's decision – News24: News24Public questions Mas… http://t.co/fGQiOXIQzv#Search#Automated

— Johannesburg Daily (@joburgdaily) January 30, 2015
De Kock had been dubbed "Prime Evil" in the media after admitting more than 100 charges including murder, torture and kidnapping.
But, in announcing parole, the country's justice minister; Michael Masutha, says de Kock expressed remorse for his crimes and helped police recover the remains of his victims.
"In the interests of nation-building and reconciliation, I have decided to place Mr de Kock on parole," said Masutha.
He added: "De kock has requested that the actual date and condition of his release should not be made public."
There are mixed reactions to the decision to grant parole.
Johannesburg resident Agripa Ndlovu said: "Justice is corrupt from the top and even though we feel it's wrong that they're letting him out, because he killed people and others disappeared, there is nothing we can do. You have senior officials who made mistakes, but they were forgiven."
Another resident; Joseph Dlamini, said: "At some point we need to forgive each other, because we killed one another. There are some of our black brothers who killed a lot of white people, and also white people who killed. But to build a nation, that's the problem and it's difficult."
De Kock was arrested in 1994, the year that Nelson Mandela and the African National Congress came to power.
Two years later he was sentenced to 212 years in prison on a variety of charges.
De Kock, who is now aged 65, was the head of a police unit called Vlakplaas, which was given the job of "dealing" with black anti-apartheid activists.
Many relatives of de Kock's victims spoke out against giving him parole, which had been legally possible since 2007.
"Let him rot in hell," one relative told reporters before the latest parole hearing.
The justice minister also announced that he was denying medical parole to another high-profile figure from the apartheid years, Clive Derby-Lewis.
Now said to be dying from cancer, Derby-Lewis is a former far-right politician who was behind the murder in 1993 of the leader of the Communist Party, Chris Hani.
But the minister said there was not enough evidence that medical parole was necessary.
The mere mention of Eugene de Kock's name still makes me as fearful today as it did when I was growing up in Apartheid RSA.

— Florence Masebe (@FloMasebe) January 30, 2015
Desmond Tutu says release from prison of apartheid police killer Eugene de Kock represents milestone on road to reconciliation and healing

— SAfm news (@SAfmnews) January 30, 2015
#South Africa grants parole to 'Prime Evil' apartheid killer http://t.co/yvmiHrFsE2#news

— Live Breaking News (@mywabot) January 30, 2015
Video | Residents from Chris Hani's home village react to Masutha's parole decision http://t.co/CmWlzZYuGi

—

SABC

News Online (@SABCNewsOnline) January 30, 2015