Left-wing, anti-austerity and non-religious: New Greek PM Tsipras takes the reins
Comments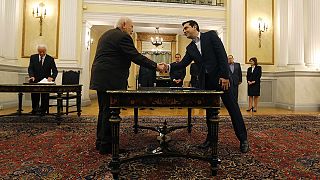 Alexis Tsipras is officially the new Prime Minister of Greece.
Left-wing, hardline anti-austerity leader Tsipras is a known atheist. As such, the swearing-in ceremony was non-religious for the very first time.
However, Tsipras still held a meeting with Ieronimos, the Archbishop of Athens.
Greek President Karolos Papoulias swore in the Syriza leader in a ceremony at the presidential palace in Athens on Monday (January 26).
Greece's debt crisis has pushed President Papoulias into the political foreground, despite his position being largely ceremonial.
Failure among MPs to agree on his successor triggered Sunday's snap election.
Syriza will form a coalition with the left-wing Independent Greeks, led by Panos Kammenos.
Many of their core policies – particularly on immigration and religion – differ drastically.
Tsipras is pushing for children born of immigrants to be granted Greek citizenship, while Kammenos wants less immigraton and would like the Orthodox Church to play a greater role in politics.
However, the two leaders are united in their hatred of the EU/IMF bailout programme.
Tsipras didn't hedge his bets with the Independent Greeks. He also met the leaders of other parties on Monday seeking support for his commitment to renegotiate the country's huge debts and the terms of its international bailout.
The new government will be officially presented on Tuesday (January 27).
Finance ministers from the euro zone also met on Monday. Speaking from Brussels, Head of the Eurogroup Jeroen Dijsselbloem, issued a thinly-veiled warning for the new Greek government.
"Membership of the euro zone means that you comply with everything you have agreed with," he warned.