Greeks react with delight and trepidation to Syriza election win
Comments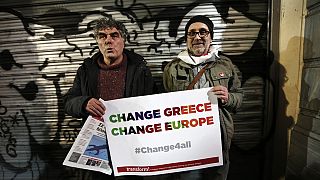 The people of Greece are taking in Syriza's momentous victory in the snap general election.
Both Greek and European markets fell on Monday morning but voters showed they were undeterred by warnings of negative consequences should they revolt against years of austerity measures.
Fay Doulgkeri, one of euronews' correspondents in Athens, said:
"The Greeks voted for a change in the country's political scene. The day after, some are optimistic and hopeful, others are concerned, but they all agree that the country needed a change. Today's newspaper headlines refer to the large victory for Alexis Tsipras but also to the difficult period ahead of him."
Syriza is set to lead the first eurozone government committed to overturning stringent budgetary measures imposed on Greece as a condition of its bailout secured in 2010.
"I don't believe that things will change, in our pensions for example, because we are in debt, let's not have crazy dreams, let's hope that things will be better for our children," said one middle-aged woman in Athens' Syntagma square.
"There is always hope that something will change, besides this is why he was elected, with the hope that something will change. Some people are reacting with a smile, some are not, some are afraid," another woman added.
The result gives hope to a group of government cleaners, sacked under austerity, whose campaign to get their jobs back became a symbol of the nation's struggle.
"We are very happy, this is what we were waiting for, this was our only hope for our just cause. We were waiting for Mr Tsipras to be elected because he will hire us back," said one of the cleaners, Anastasia Nomikou.
Expectations may be high that Syriza can deliver on its promises.
But some European leaders particularly in Germany have reacted sternly to the election result, warning Greece to continue with reforms.