International concern grows after fighting in Ukraine escalates
Comments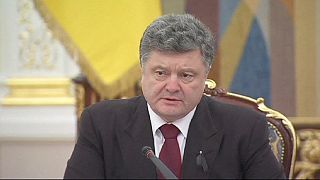 Diplomatic pressure is being brought to bear on both sides in Ukraine's conflict after the weekend saw some of the worst fighting in recent months.
An unjustifiable violation of the ceasefire
The UN Security Council is to hold an emergency session late on Monday and EU foreign ministers will do likewise on Thursday.
Moscow backed rebels have continued their offensive in the east of the country with new attacks against government positions between Donetsk and Luhansk.
In Kyiv a vigil was held for the 30 victims who died in Saturday's shelling of the strategic Black Sea port of Mariupol.
Germany has called Saturday's assault an "unjustifiable violation of Ukraine's fragile ceasefire" while Washington says it is seeking further ways to isolate Moscow which it accuses of equipping, funding and training Ukraine's separatist rebels.
Russia, which denies directly arming the separatists, has blamed the upsurge in violence on Kyiv refusing to withdraw heavy weapons away from a demarcation line.
Meanwhile President Petro Poroshenko told an emergency meeting of Ukraine's security council that the peace deal signed in September in Minsk was the only solution to the conflict.