Kyiv claims victory in new battle for control of Donetsk airport
Comments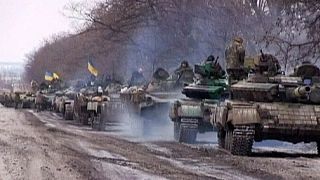 It is being described as the worst battle in eastern Ukraine in months.
The government in Kyiv says its troops have retaken control of areas lost to rebels in recent weeks around Donetsk airport.
Officials say four soldiers have died and 32 were injured. No casualty figures have been given by the rebel side.
Ukraine's Army spokesman Andriy Lysenko told euronews: "We're ready to stop firing if the terrorists don't shoot at us.
"We're ready, under certain conditions, to withdraw our heavy weapons by 15 kilometres, as mentioned in the ceasefire agreements."
Lysenko also said the army had no intention of entering Donetsk city, saying it just wanted to reestablish the agreed separation line between government and rebel-held territory.
On the operations on Saturday, the spokesman said: "We've succeeded in clearing almost all of the airport area.
"This belongs to the territory assigned to the competence of the Ukrainian army by the Minsk ceasefire agreement.
"This is not a breach of the Minsk protocol," he added.
The battle is over an airport that is now decimated.
Showing a video to reporters, the army says the Russian-backed rebels have fired rockets from residential areas in Donetsk city.