Turkish satire magazine Leman pays tribute to erstwhile Charlie Hebdo colleagues
Comments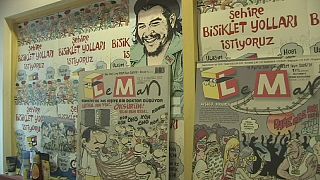 The deaths of the Charlie Hebdo cartoonists particularly shocked their counterparts at the Turkish satirical magazine Leman.
In the past they had published joint issues and Leman's Managing Editor Zafer Aknar told euronews the French cartoonists has sought them out to demonstrate that Islamophobia is unacceptable:
He said: "They themselves said that they felt alone. That's why they came to us. They came to Istanbul to show that Islam actually is a religion of tolerance. They wanted to say, look in a Muslim country there is a magazine like ours. They cooperated with us to show people that Islam is not what you think. But nobody got that."
As the Turkish cartoonists prepared a tribute issue, Zafer Aknar pointed out the irony that Charlie Hebdo has been such a full-on critic of western governments.
He told euronews: "They were hardcore opposition. They directed their strongest criticism at their own society and political system. But people are not aware of that. They just picked up on one thing and focused on that. Why don't you look at what else they did? About 80 to 90 percent of their cartoons were against their own government. Did Charlie Hebdo support the occupation in Iraq or Libya? Did they support the French action in Libya even once? Which war did they support? If we in Turkey did what they did to their society, we wouldn't even be able to walk about in public."
And indeed there have even been hate messages posted on social media in Turkey approving of the Paris attack and urging similar action against satirical magazines there.
But on the other side, Thursday evening saw a demonstration by Turks in support of the ideals of Charlie Hebdo in Istanbul's Taksim Square.