Images emerge of suspected female suicide bomber in Turkey
Comments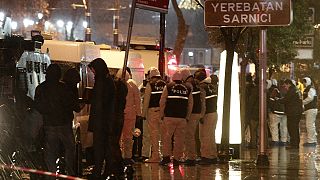 CCTV images have emerged of the suspected female suicide bomber who attacked a police station in Istanbul, killing one officer and injuring one other.
The woman is said to have told police officers in English that she had lost her wallet before detonating a device inside the station, located in the main tourist hub of Sultanahmet.
Local media report the suspect as Elif Sultan Kalsen, a member of far-leftist Revolutionary People's Liberation Party-Front, or DHKP-C.
There has been no immediate claim of responsibility, but it comes one week after the far-left group said it was behind an attack on police near the prime minister's office in the city.
Local media reported that bomb disposal units exploded two more bombs found on the woman's body.
The Turkish prime minister said a comprehensive investigation would be launched and labeled the attacker a 'terrorist'.
From in Istanbul euronews correspondent Bora Bayraktar said:
"The attack in the heart of Istanbul's tourist hub of Sultanahmet square just a few meters away from historic Hagia Sophia museum shocked residents of the city. After the second attempted attack in a tourist hot spot within a week the focus is on increased security measures in the city."