Ex-PM launches new party three weeks ahead of elections in Greece
Comments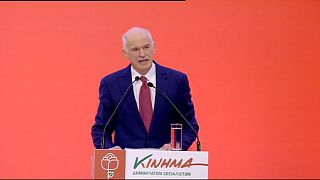 Back with a vengeance, former Greek Prime Minister George Papandreou has delivered a rallying cry for his newly created left-leaning party Movement for Change, just three weeks ahead of elections in Greece.
Though the party has yet to outline its policies, they are hoping to siphon votes from the centre-left PASOK party with the draw of a big name.
"We welcome the people's power. We welcome every active citizen that will sign our declaration today, and in the coming days when we will travel all over Greece, for our Democrat and Socialists' Movement," said Papandreou at the party's launch on Saturday.
Papandreou was ousted in 2011 over a party revolt in response to his handling of the debt crisis. The fallout of austerity has been a boost to Alexis Tsipras' Syriza party which is tipped to win.
"This is the time of democracy, this is the time of dignity, this is the time for our people to stand up. This is a crucial time," Tsipras told a rally on Saturday.
Greece's elections are being keenly watched across Europe as they could elect the first anti-austerity party to power.