Man arrested after grenade attack near Turkey PM's office
Comments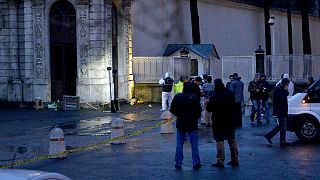 A man who allegedly threw two hand grenades near the Turkish prime minister's office in Istanbul has been arrested by police.
The city's police chief Selami Altinok said the suspect had served time in prison and had links to what he called "terrorist" organisations. No further details were given.
The attacker was also armed with a small weapon and an assault rifle. He was arrested after the incident in front of the offices at the Dolmabahce Palace in downtown Istanbul. The Ottoman palace was once the residence of the founder of the Turkish Republic, Mustafa Kemal Ataturk.
It was not clear whether Prime Minister Ahmet Davutoglu or President Recep Tayyip Erdogan were in the palace at the time.