A decade since the Indian Ocean tsunami
Comments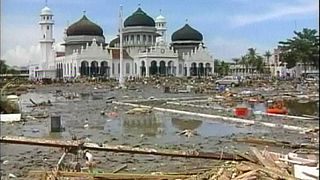 December the 26th, 2014, marks the 10th anniversary of the Indian Ocean earthquake and tsunami that resulted in the deaths of over 230,000 people.
The quake, with its epicentre off the coast of Sumatra in Indonesia, measured 9.3 on the Richter scale and made the record books for being the third most powerful quake ever recorded.
Coastal communities in 14 countries were destroyed; paradise became hell on earth in a matter of minutes.
The waves produced as a result of the over eight-minute long earthquake reached heights of over 30 metres and swallowed everything in their path.
The question many asked after the tragedy was whether the countries affected could have prevented so many deaths.
Even a decade later that question is difficult to answer. At the time the majority of countries had no system in place to warn of the potential threat of a tsunami for those living along the coast. This contributed to the large death toll.
However, it is known that the earthquake and the danger it posed were known in time to warn the population. But officials hesitated in releasing that information over fears it would damage the idyllic image of their tourist areas.
That lack of judgment proved costly and today those lucky to have survived, such as Vasantha, are haunted by the memory of events of a decade ago:
"It's ten years since it happened and whenever I go back to where my old home was I just cry. I'm not at peace because I lost three of my children in the tsunami. Even if I have another child, I'll never be able to forget them," Vasantha said.
The response of the international community was quick, with over 14 billion dollars donated in humanitarian aid. But has that been enough to deal with the problems of those most affected?
"When the money donated to us ran out, we began to have problems. Looking after my family became difficult because I have no support," explained Vasantha.
The effects of the tsunami will be felt for many years to come. However, it is hoped that lessons have been learned in how best to avoid another huge death toll in the event of another tsunami.