Technical failure forces UK flight restrictions but problem now fixed
Comments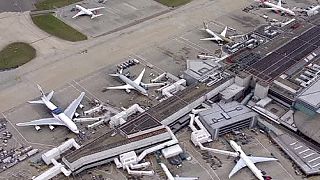 A technical problem that forced authorities to impose flight restrictions in the UK has now been fixed and traffic control systems are returning to normal.
An untold number of flights were affected by the fault in what appears to have been a power outage involving computer systems.
Authorities had earlier said restrictions would stay in force until 8pm Central European Time while the problem was fixed.
London's biggest airport, Heathrow, said no flights were taking off or landing.
Gatwick reported delays and Stansted talked about flights being suspended.
Government sources were quoted as saying the problems did not appear to be linked to any security threat.