President Obama takes up the Ebola challenge and urges Congress for emergency funds
Comments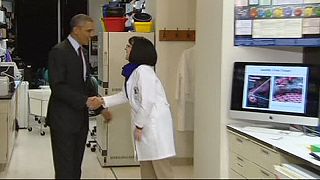 US President Barack Obama has applauded American scientists working on a vaccine to combat the Ebola virus. His visit to the National Institutes of Health in Maryland was part of a push to get an uncooperative Congress to approve $6bn (4.8 bn euros) in emergency aid.
We can't just fight this epidemic, we have to extinguish it!
Obama sees the outbreak in West Africa as a long term challenge with a need to support stricken countries to build better public health systems to contain future disease outbreaks.
"Every hotspot is an ember that if not contained can become a new fire, so we cannot let down our guard even for a minute. And we can't just fight this epidemic, we have to extinguish it. We cannot beat Ebola without more funding. If we want other countries to keep stepping up, we will have to continue to lead the way."
Meanwhile medical charity Medecins Sans Frontieres (MSF) has criticised a slow international response to the epidemic.
More than 17,000 people have been afflicted and more than 6,000 have died since March.
Some efforts from the UK and China have been well intentioned but MSF says some treatment centres have been set up in the wrong places with under qualified staff.
While the president was focusing on West Africa there has been another possible Ebola victim on American soil. Massachusetts General Hospital has admitted a patient with suspected Ebola exposure. Little more is known about the individual.