US researchers optimistic about Ebola vaccine
Comments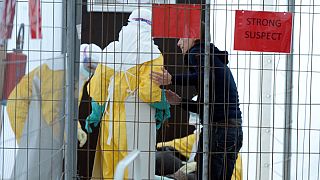 US researchers say an experimental Ebola vaccine appears safe.
It is designed to stimulate the body's immune system to produce Ebola antibodies.
Volunteers testing the vaccine developed antibodies within four weeks of getting shots at the National Institutes of Health (NIH).
The researchers reported no serious side effects.
"We're hoping to start this much, much larger efficacy trial in, first Liberia, to determine if it actually works," said Dr. Anthony Fauci, Director of NIH's National Institute of Allergy and Infectious Diseases.
"Hopefully in several months, maybe by the mid to the end of the summer of 2015, hopefully we'll get enough good data to be able to determine if the vaccine works or not," Fauci added.
The World Health Organisation's latest update says Ebola has killed at least 5,689 people, making it the worst recorded outbreak of the disease.
The three hardest-hit countries, Guinea, Sierra Leone and Liberia, have reported 600 new cases in the past week.
A different Canadian-made vaccine also undergoing initial tests.