Hong Kong police spray potent substance onto pro-democracy activists
Comments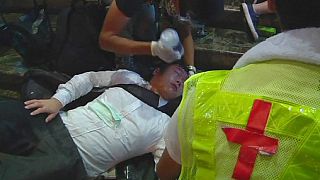 Police in Hong Kong have used new tactics to clear pro-democracy protesters from the streets – spraying them with an unidentifiable liquid from raised metal platforms.
Described as "a pepper-based solution" or "tear spray" in various reports, the substance's potency appeared in little doubt as demonstrators hit by the spray struggled to open their eyes and poured water over their faces.
Thousands of police were deployed after a court ordered the reopening of a blocked street in the working-class Mong Kok district, scene of some of the most violent clashes in the two-month long civil disobedience campaign.
They were met with little initial resistance but activists regrouped in the evening, vowing to continue their protests.
They want people to be able to vote for a leader of their choice in Chinese-controlled Hong Kong's 2017 elections. Beijing wants to select candidates for the poll.