Pentagon chief Chuck Hagel resigns
Comments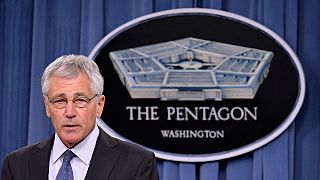 US defence secretary Chuck Hagel has resigned after just two years in the Pentagon's top job.
Hagel had questioned Obama's strategy towards Syria in a leaked internal policy memo, saying the president had failed to clarify his position over Syrian President Bashar al-Assad.
But a senior defence official told Reuters: "What I can tell you is there are no policy differences in the background of this decision. The secretary is not resigning in protest and he's not being 'fired'."
Hagel's departure, which was submitted by letter after long discussions with Obama, is the first major cabinet change since Democrats suffered heavy losses in mid-term elections three weeks ago.
Hagel will stay in post until a successor is found, a senior Obama official said.
Candidates to replace him include Michele Flournoy and Ashton Carter, who were rumoured to be contenders for Hagel's job before he was appointed.
Congressional sources said that was almost certainly not going to happen until after January, when Republicans take over in the Senate.
House speaker John Boehner said in a statement: "This personnel change must be part of a larger re-thinking of our strategy to confront the threats we face abroad, especially the threat posed by the rise of ISIL.
"We cannot defeat this enemy without a broad, coordinated, well thought-out effort that has the strong support of the American people. Thus far, this administration has fallen well short."