Freerunning Santorini : The Greek winner Dimitris Kyrsanidis
Comments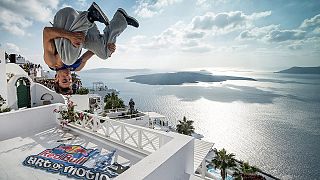 Local hero Dimitris Kyrsanidis (GRE) seized victory at Red Bull Art of Motion 2014 by beating 17 of the world's best freerunning athletes on Santorini's urban track. Pavel Petkuns (LAT) came second and Alexander Baiturin (RUS) finished third to grab the two remaining podium spots.
It was a winning run full of creative tricks and fluid movements from Kyrsanidis who gave a world-class performance above the whitewashed stone roofs of Santorini to impress the judges. A crowd of 1,500 spectators celebrated the 19-year-old winning the fourth edition of freerunning's most celebrated title. The shock result saw two-time champion Pavel Petkuns pushed into second place.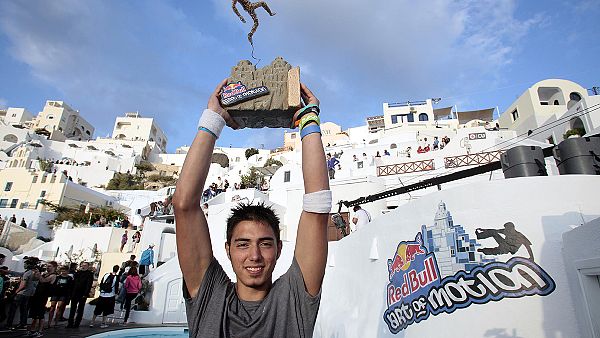 «I am speechless. I don't have the words to describe my feelings. I cannot believe I took first place», Dimitris said after his win.
The new champ started freerunning at the age of 12 and has been steadily building his reputation within the sport in recent years. Following victory in his native Greece it seems as though Kyrsanidis will be the man to beat for years to come.
Red Bull Art of Motion 2014 brought together urban body artists from 12 countries to mix art and sports when they performed on a course that went over roofs, domes, terraces and swimming pools for a timed run of 90 seconds. With the high level of competition, last year's winner Cory DeMeyers (USA) and fellow countryman Jesse La Flair did not make it to the finals after being eliminated in their respective heats.
The best trick of the day came from Alexander Baiturin who pulled off a great high bar combination that finished with a 2.5 metre diveroll at the end of the track. Luci Romberg claimed the women's award, as the American blew everyone away with her high level of performance.
Watching the creativity, flow and execution of the 18 freerunners, leaping from rooftop to rooftop, it became obvious why they are called urban artists, although the world-class athleticism on display was also undeniable. Surrounded by iconic scenery, once again Red Bull Art of Motion created "living art" this weekend.
Red Bull Art of Motion Santorini 2014 Final Result
1. Dimitris Kyrsanidis (GRE) 494 points
2. Pavel Petkuns (LAT) 484
3. Alexander Baiturin (RUS) 465
4. Yoann Leroux (FRA) 464
5. Jesse Peveril (SUI) 429
6. Alexander Schauer (AUT) 374