France first choice for tourists but cities among world's least friendly
Comments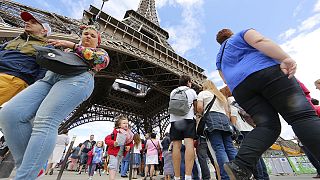 France's tourist bosses have been left scratching their heads after seemingly contradictory reports fell into their in-trays within days of each other.
First a travel magazine survey revealed France had three of the five most unfriendly cities in the world, including Cannes, dubbed a 'European Vegas'.
Next the government released figures which claimed 'l'hexagone' was the most popular on the planet with tourists.
WORLD'S MOST UNFRIENDLY CITIES
Johannesburg, South Africa
Cannes, France
Moscow, Russia
Paris, France
Marseille, France
Beijing, China
Frankfurt, Germany
Milan, Italy
Monte Carlo, Monaco
Nassau, Bahamas
The report, from the government's competition, industry and services department (DGCIS), said France had 84.7 million tourists visit its shores in 2013, putting it ahead of Spain and the United States.
France, which has already set its sights on attracting 100m a year by 2022, was popular mainly with Europeans, with 70m from the continent visiting in 2013. There were 13m from Germany, 12.6m from the UK, and 10.5m from Belgium and Luxembourg.
More than 4m came from North America and 4.5m from Asia.
But that boost was tempered by Condé's poll, which singled out Cannes, Paris and Marseille as being among the most unwelcome.
The survey rated Cannes as the world's second most unwelcoming place, with readers calling it a "European Vegas" and its inhabitants "disappointing" and "unfriendly".
A report by regional French television showed people in Cannes expressing surprise at the survey.
Cannes mayor David Lisnard is reported to be working on a new confidence and quality charter with the region's tourism professionals.
The entry for France's second city, Marseille, plagued by drug-related violence, reads: "Although Marseille is a 'lovely, historical city' crime seems to be a major concern for many visitors. 'Beautiful, but beware of pickpockets,' one reader said, while another warned: 'Stay away! Threatening atmosphere for tourists.' There are also 'many unsavory areas'. Though it's important to be cautious, we must admit that some of these non-tourist areas are home to some pretty cool street art."
The authorities in Marseille did not offer a response on whether the city was unfriendly.
A spokesperson said: "Marseille, after the success of the European Capital of Culture in 2013, has never experienced such a strong influx of tourists for the last two years: 8 million visitors, 11 million tourists and more than 1.1 million cruise passengers."
Paris has long had the reputation of being unfriendly – so much so its tourist board launched a new initiative called 'Do you speak touriste?' to encourage the city to be more in tune with visitors' needs.
But Condé says the perception Parisians are "cold and aloof" endures, despite it being a 'fabulous and romantic' city. One of its readers claimed everyone was 'downright rude', while another wrote city folk would not "budge any inch" to help someone who is lost.
Muguet Becharat, a tour guide who has began working in Paris in 1992, said it was symptom of a city invaded by visitors.
"I don't think Paris is anymore unfriendly than other big cities," she added. "Paris is a city where people live, unlike some other places. They are just reactiing to that [have lots of tourists in their city]
"If you behave like 'this is my place' and you behave how you like, the locals are not going to like that.
"I try and take people to meet real Parisians and they are really friendly. If you ask my clients they say they have had some of their best times in Paris."