Pistorius family fury at TV channel for airing Steenkamp shooting re-enactment video
Comments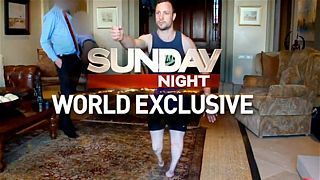 The defence team of Oscar Pistorius has criticised the airing of a video that shows the paralympian re-enacting the events that led to the killing of his girlfriend Reeva Steenkamp.
The footage, shot at his uncle's house, shows Pistorius running, shouting and pretending to hold a gun.
A spokesperson for Pistorius says the re-enactment was carried out so a US tech company could create a computer model of the shooting for use in court:.
The video was aired by Australian broadcaster Channel 7 on Sunday.
The defendant's family has reacted angrily to the video's publication and has issued a statement saying it "constitutes a staggering breach of trust and an invasion of the family's privacy."
The Pistorius family added that the pictures were obtained illegally.
Channel 7 begs to differ, claiming the video was not "obtained illegally."
The athlete says he shot his girlfriend in a panic after he mistook her for an intruder last year.
The prosecution believe he killed Reeva Steenkamp following an argument.
If found guilty of murder, Oscar Pistorius could face life imprisonment. If acquitted the court will consider an alternative charge of culpable homicide, which carries a maximum 15-year jail term.