Does Hillary Clinton have brain damage? Republican spin doctors get to work
Comments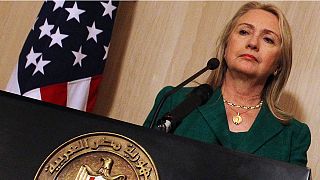 Those old enough to remember still know what the 1990s looked like in US politics: it was Clintonland vs. "vast right-wing conspiracy theories", a constant effort of the Republicans to unearth real or imagined scandals involving Bill and Hillary Clinton.
Today, after a decade and a half later, the battle lines are drawn again, as the prospect of Hillary Clinton running for president sparks knee-jerk anti-Clinton reactions among Republican operatives. Their objective: undermine her campaign before it even starts.
The latest example was Karl Rove's suggestion that the former first lady and Secretary of State may have "brain damage" as a result of a concussion and blood clot suffered in late 2012.
Rove, who gained fame as former president George W. Bush's senior advisor and spin master, made these remarks to an assembled crowd in Los Angeles last week, picked up by the New York Post a few days later.
"We need to know what's up with that," Rove was said to have told his audience. Rove based his diagnosis on special glasses Clinton wore after her concussion to lessen double vision – fallout of the concussion itself and one that was disclosed by Clinton.
(He also told them Clinton had been hospitalized for 30 days, although she was only in a hospital for less than three days.)
Clinton was in hospital after doctors discovered a blood clot behind her right ear. They said it stemmed from a concussion that she had suffered after fainting while weakened by a stomach virus.
Rove's remarks sparked some of the fiercest pushback yet from Clinton's team – with her husband Bill back in the trenches again.
"I've got to give him credit — that embodies that old saying that consistency is the hobgoblin of little minds," the former president said Wednesday when asked at a fiscal summit in Washington about Rove's comments. "First they said she faked her concussion and now they say she's auditioning for a part on 'The Walking Dead.'"
"Whatever it takes," Clinton continued with a chuckle. "Look, she works out every week. She is strong. She is doing great, as far as I can tell she's in better shape than I am. She certainly seems to have more stamina now. And there's nothing to it."
In the meantime, Rove, who has a history of political dirty tricks, backpedaled, denying he had said Clinton suffered "brain damage" – terminology used in the New York Post's headline – but insisted that the public needed more information about what he called a "serious health episode."
"This was a serious deal. She basically was out of action," Rove told Fox News, which beneath a picture of Clinton ran the headline "Health a 2016 hurdle?"
The injury led the then-Secretary of State to delay her testimony to Congress on the September 11, 2012, attack on a diplomatic post in Benghazi, Libya, that killed four Americans.
At that time, some Republicans questioned whether she actually had a medical condition or was simply trying to put off the hearing.
Hillary Clinton's spokesman Nick Merrill called Rove's comments "flagrant and thinly veiled. They are scared of what she has achieved and what she has to offer."
Merrill said Rove was getting his facts wrong but "doesn't care, because all he wants to do is inject the issue into the echo chamber, and he's succeeding."
White House press secretary Jay Carney mocked the former Bush advisor as "Dr. Rove" and cited Rove's election night questioning on Fox News that President Barack Obama had won re-election in 2012.
The tussle between Rove and Clinton's team came as the 66-year-old former first lady considers running for president again and is preparing for a book tour next month on her State Department years.
Clinton is the leading Democratic contender for president but has not yet said whether she will seek the White House.