Record unemployment with nearly half of EU's jobless out of work for over a year
Comments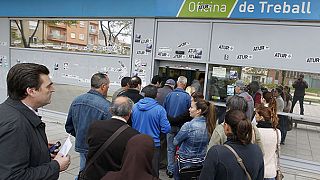 Long-term unemloyment is at record levels in the European Union with nearly half of those out of work jobless for more than a year, new figures reveal.
Of those unemployed in the EU, 47.5 percent have been in that position for more than 12 months, Eurostat data for 2013 shows.
It means long-term unemployment in the union's 28 member states is the highest it has been for at least a decade.
The measure – long-term unemployment as a percentage of total unemployment – has risen sharply from 33.5 percent in 2009, to 47.5 percent last year. It was 45.4 percent in 2003.
Christian Odendahl, chief economist at the Centre for European Reform, said the rise in long-term unemployment, was, in part, down to the length of the recession in parts of southern Europe.
He added: "The big danger of this long-term unemployment is that it is likely to turn into persistent, structural unemployment as the recovery in the Eurozone in particular will be slow. This lowers growth in the medium term.
"One of the key mistakes was not to support economic demand sufficiently: fiscal policy got tightened in the midst of the recession while the European Central Bank was reluctant to pursue monetary stimulus with the necessary boldness and is now getting 0.5 percent inflation in return.
"The long-term unemployment is one reason why fiscal consolidation efforts in the eurozone might be self-defeating: the deficit reduction that you get in the short run will be compensated by lower growth/higher unemployment in the future, and hence larger deficits."
Worst and best
Regions of south and eastern Europe were among the worst hit, including Greece, Italy, Slovakia and Croatia.
Slovakia has three regions with more than two thirds of those jobless considered long-term unemployed, with Východné Slovensko, in the east of the country, highest at 74.9 percent.
It is a similar story for Greece, with much of the country hovering around a similar rate. Dytiki Ellada was among the highest, at 74.9 percent.
The French overseas departments Guadeloupe and Guyane were the worst for long-term unemployment, with rates of 79.5 percent and 77.6 percent respectively.
Poland is among the members states to have reduced the problem. Warminsko-Mazurskie had a long-term unemployment rate of 65.4 percent in 2006. In 2013 it had fallen to 45.8 percent.
Six Swedish regions dominate the best areas for long-term unemployment, with Övre Norrland, at 12.4 percent, the best.
The overall unemployment rate in the EU was recorded at 10.6 percent in February, down from 10.9 percent a year earlier.
Austria had the lowest unemployment rate as of February, at 4.8 percent, while it was highest in Greece, 27.5 percent, and Spain, 25.6 percent