Pistorius tells court: "I regret not telling her I loved her"
Comments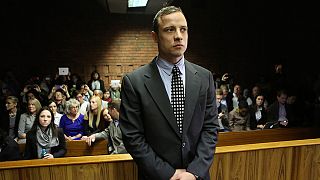 Oscar Pistorius has denied prosecutors' claims he had been "picking on" his girlfriend Reeva Steenkamp prior to her death, as his trial over her murder continued on Thursday.
He also denied ever shouting at her and regretted not telling her he loved her. He was commenting on text exchanges between him and Steenkamp, which featured in the prosecution's case.
"We were in the foundation phase of our relationship – still opening up to each other, still starting to trust each other," said the paralympic athlete, insisting that his relationship with Steenkamp was "strong".
Lead prosecutor Gerrie Nel was once again on the offensive as Pistorius' cross-examination continued. "It was all about you Mr. Pistorius. Your life is just about you – what's good for Oscar," Nel said in court. He also quoted a text message from Steenkamp to Pistorius in which she confessed to her boyfriend that she was scared of him sometimes. "Why would she be scared? Because you shouted at her," said Nel.
Nel also referred to the testimony of Samantha Tylor, Pistorius' ex-girlfriend, in which she claimed Pistorius shouted at her. Pistorius insisted he never shouted at either of them and accused his ex of lying.
Nel has been trying to show the court that Pistorius is moody, self-centred and has a temper by alluding to trivial incidents between the couple that have emerged throughout the trial, such as the time when Pistorius told Steenkamp off for chewing gum in public.
"By brushing her off when she touched your neck in public, telling her to stop chewing gum, you're humiliating her, especially in public," asserted Nel.
Pistorius responded by saying he told her off to help her, because it did not "look good."
"You just don't take any responsibility for anything. You just don't do anything wrong," Nel said repeatedly.
Pistorius is being cross-examined by Nel, known as "the bull terrier" in court circles for his merciless questioning and his "you make no sense" approach.
Pistorius admits shooting Steenkamp at his home in February 2013 but has pleaded not guilty to her murder, insisting that he mistook her for an intruder.
The trial continues.