Could discovery of new planet mean we are a step closer to finding alien life?
Comments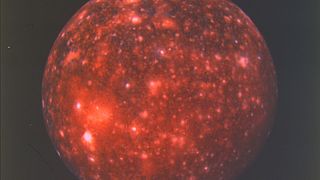 Scientists think they have found a habitable Earth-sized planet – opening up the possibility of finding alien life.
Astronomer Thomas Barclay, from Nasa's Ames Research Centre in California, announced his discovery at a conference in Arizona.
Barclay used data from the Kepler space telescope to find out a five-planet system, the outermost of which circles toward the outer edge of its star's habitable zone, according to the Discovery Channel website.
Discovery added Barclay, in an e-mail, declined to comment on his research until it is closer to being published in a scientific journal.
No other details have been published about Barclay's discovery, nor has it yet been confirmed by Nasa.
The Kepler telescope, launched in 2009, is dedicated to finding planets outside our solar system, particularly those in habitable zones.
Barclay shows new transiting system around M dwarf. 5 planets with outermost (1.1 Re) is towards outer edge of habitable zone. #ebi2014

— Nick Ballering (@nick_ballering) March 19, 2014