France's mid-term elections: left braces for impact
Comments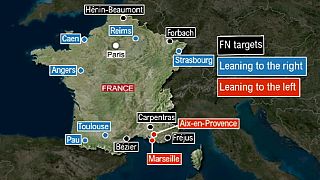 It is local election time for France this weekend, round one. The polls come almost two years into the presidency of François Hollande, whose deep unpopularity is a setback for the socialists' candidates. It is predicted that others will profit. The big main parties are being put to the test, notably by the Front National far right.
Paris, under Socialist control for 13 years, is about to get its first woman Mayor, either the conservative UMP (Union for a Popular Movement) candidate Nathalie Kosciusko-Morizet (though she is handicapped by an image that she is posh) or the Socialist Party's Spanish-born Anne Hidalgo.
The forecast for abstention could shatter records. Local interests predominate. The elections for mayors and town councillors could shake up many of France's 36,000 villages, towns and cities. The forces that have dominated French politics for decades have disappointed a lot of voters.
The National Front (FN) has designs on three fiefdoms in the Mediterranean south and two in the ex-industrial north, notably Hénin Beaumont.
Centres that could swing to the conservatives include Strasbourg, Toulouse and Reims.
Avignon and Marseilles could swing left.
Most of the socialists' loss is expected to be the UMP's gain. But the far right has never fielded so many candidates.
FN leader Marine Le Pen wants her people in local-council seats to get them ready for the next national elections. Opinion polls suggest a third of French voters appreciate her cleaned-up, patriotic new look party line, which is anti-establishment, anti-euro, anti-EU, anti-Islam and anti-immigration.
Since the 2008 elections, the left has held 28 of the 42 cities of 100,000 people or more. Marseilles is one of the exceptions, a bastion of the right for almost two decades — though lately the UMP has had scandal and leadership trouble.
To win office, candidates need either to get more than 50 percent of the vote this Sunday or go head-to-head with rival front-runners in round two.
We asked an expert more about the national pulse at the moment.
Laurence Alexandrowicz, euronews: "We're joined by Martial Foucault, director of the political science research centre CEVIPOF in France. Sunday sees the French called to the ballot box to elect their mayors. How would you sum up the most important matters?"
Martial Foucault, Paris Institute of Political Studies: "There are three main areas that stand out: local fiscality, the context of the budget in France has a layer added to it by virtue of the voters in 36,000 cities, with tax pressures increasing; secondly, there's the job market, local unemployment is rising, conditions getting worse everywhere; the third dimension is exclusively local: the capacity of mayors to manage their cities well."
euronews: "We're also hearing a lot about abstention rates that have gone up and up in recent years. In 1983, 20 percent didn't bother to vote, then in 2008 it was 34 percent. Does that play in anyone's favour?"
Foucault: "It's true that for Sunday's vote several polling institutions have been forecasting a historical drop-off in participation, with scores hovering around 40 percent. To understand this, there's one point that must be stressed, and it's what we call differential abstention. I'd say that in this election a majority of cities are to the left today; it's quite obvious that if abstention goes up it will be to the advantage of the right more than the left."
euronews: "Could this also give the National Front a boost? We've been reading and hearing that lately."
Foucault: "When turnout is low it just means there's been a weak effort to get the vote out. Voters don't go to the trouble, and that goes for the big parties that are losing ground due to falling popularity, both the left and the right. The small parties are better at mobilising their voters, and the National Front could be one of these where electors are sure of their choice, which isn't the case for the parties of the socialists and conservatives."
euronews: "In a time of crisis, do we see a rise in interest in local elections?"
Foucault: "It's very difficult to establish a link between the context of an economic crisis and abstention. On the other hand, in 2014 what we have isn't an economic crisis context but a political or even a democratic crisis. When we look at the different levels of confidence that the French express for the various political institutions, we see, paradoxically, very, very little trust in political parties; they enjoy barely eight percent of the voters' trust. But the Mayor, the institution of the City Council… that still has a more than 60 percent approval rating among the French people."
euronews: "Admitting there's a major change among the conservatives, the UMP very divided, with internal tensions; could that trigger a return of Nicolas Sarkozy to the political stage?"
Foucault: "I wouldn't say there has to be an upheaval of the right. Why so? We've just indicated that the National Front will be out in high numbers, with some of its candidates possibly making it to the second round of voting. That will mean three candidates running, and we know in France that when one of these is National Front it penalises the conservative candidate. I'd say that this election is so local that the results (we have to be careful how we look at them) couldn't justify Sarkozy coming back as the provider: not if the right succeeded in a municipal ballot. On the other hand, if the conservatives were defeated, then yes, the conditions would be there for Sarkozy to be an alternative to the current leadership of the UMP."