Ukraine crisis: former president Kravchuk warns of further difficulties ahead
Comments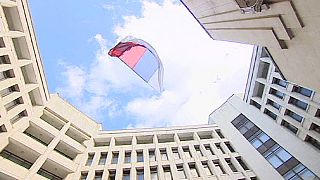 Just over two decades ago, Russia's Boris Yeltsin and Ukraine's Leonid Kravchuk signed the acts that led to the dissolution of the USSR and the birth of independent Ukraine.
Kravchuk served as Ukrainian president between 1991 and 1994. Euronews spoke to him about his concerns for Ukraine in light of the referendum in Crimea on March 16 that resulted in a decision to break away and join Russia.
Angelina Kariakina, euronews: "What's your opinion on the situation in Crimea? What does it mean for Ukraine and for Ukrainians?"
Leonid Kravchuk, former Ukrainian president (1991-1994): "For us, no dramatic changes. Ukraine will continue as before. We still consider Crimea Ukranian territory. For the future, we'll have difficult problems. First of all, what's going to happen to Ukrainian soldiers? What will be the dialogue with Ukrainian citizens over there? What will the political, diplomatic and economic relations [with Crimea] be like?
"The same situation with the borders – we have only an administrative border, not a state line. And what about telecommunications and flight connections? The problem is not so much the illegal annexation, and Crimea joining Russia, but what happens now.
"Will Russia's economy really suffer if some insignificant people are sanctioned? Putin said that Russia already has some problems and [trade]limitations, so with or without sanctions Moscow isn't really affected."
euronews: "Vladimir Putin said he didn't want to damage the dignity of Ukraine. How do you feel about that?
Kravchuk: "It's up to Ukraine to put its house in order. You cannot bring peace by military force. It's something new when you want to achieve peace through war. All this emotion and disrespectful behaviour towards Ukraine is hurting everybody."