Oscar Pistorius repeats not guilty plea on first morning of Reeva Steenkamp murder trial
Comments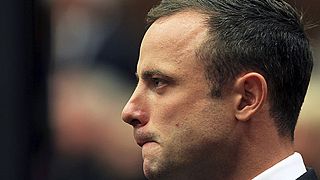 Oscar Pistorius has repeated his not guilty plea to killing his model girlfriend Reeva Steenkamp, as his trial got underway in Pretoria.
The South African Olympic and Paralympic running star, asked how he was going to plea by Judge Thokozile Masipa, replied: "Not guilty, My Lady."
But the prosecution claim he murdered Steenkamp, 29, on Valentine's Day, 2013, in a fit of rage.
Pistorius says he accidentally killed Steenkamp after mistaking her for an intruder.
Pistorius, dubbed the blade runner, made history in 2012, becoming the first double amputee track athlete to compete in the Olympics.