Drug use
Results from surveys carried out throughout the United Kingdom (UK) between 2010 and 2012 and compiled by the Department of Health (DoH), indicate that the prevalence of drug use among the general population has remained stable since 2009-10. Cannabis retains first place as the most commonly used drug.
Of the adults (aged 16-59) surveyed, an estimated 35.6 percent have used an illicit drug in their lifetime, an estimated 8.8 percent reported using drugs in the last year, and 4.8 percent in the last month. Males were more likely to report drug use than females. However, the difference between genders is more pronounced in the older age groups.
The lowest prevalence of drug use occurred in Northern Ireland, while Scotland, Wales and England showed a similar level of prevalence.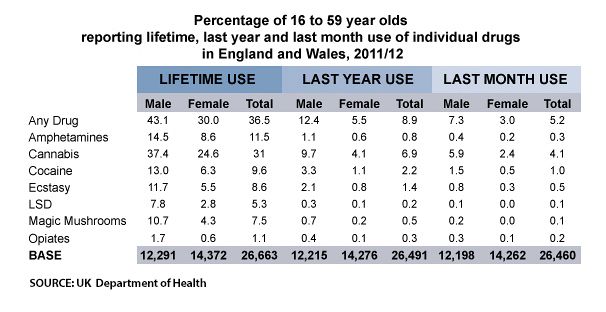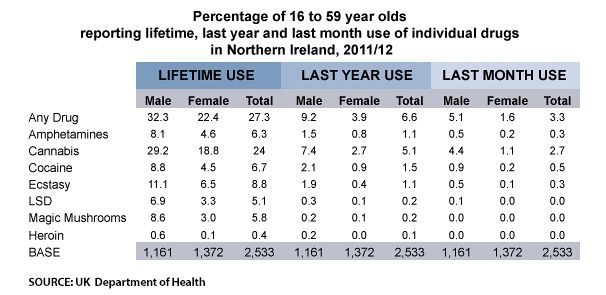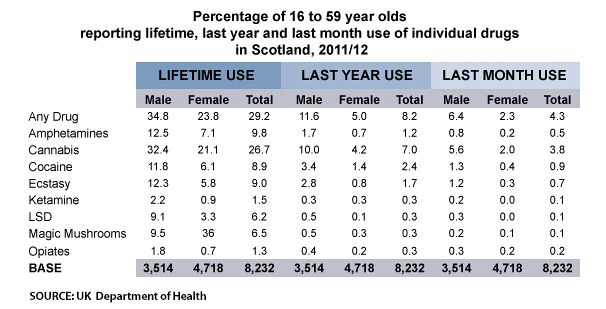 Most commonly used drugs
Although cannabis has retained its position as the most commonly used drug in the UK, other drugs have proven to be popular in different socio-economic groups. Cannabis, combined with volatile substances, are the most commonly used substances among school children in England, whereas ecstasy has proved the most popular stimulant amongst club-goers (68 percent), followed by cocaine (42 percent).
Research carried out in so-called 'gay friendly' clubs indicates that mephedrone is the drug of choice in such environments (41 percent of drug usage), which is a substantial increase from the outcome of a similar survey carried out in the previous year showing a figure of 27 percent.
Cannabis is also the most commonly offered drug in England and Scotland, according to the 2012 edition of the United Kingdom Drug Situation report, also compiled by the DoH. Throughout England and Wales in 2011/12, 75 percent of people aged 16-59 reported that it was easy to obtain drugs.
The proportion of school children reporting ever being offered drugs remained stable in 2011, up just one percent from 2010, at 29 percent. This was a marked decrease from the levels shown in the early 2000s (40-42 percent) and even in 2009 (33 percent).
According to data gathered in 2011, half of 15-year-olds in England had been offered drugs at some point, compared to 10 percent of 11-year-olds. Cannabis was the drug most commonly offered to 15-years-olds (19 percent of people in that age group had been offered it), followed by cocaine (6%). Of the pupils surveyed, 28 percent claimed that it was easy to obtain drugs, 25 percent reported that it was difficult, and the remaining 47 percent did not know.
In Scotland, the numbers of people, including school children, reporting being offered drugs continued to decrease. Some 11.6 percent of survey respondents aged over 16 reported being offered drugs in 2010/11, a decrease of 1.3 percent from the previous year. Males were twice as likely to be offered drugs as females in Scotland, at 15.9 percent and 7.6 percent respectively. Just over one third (35 percent) of young adults (16-24 year olds) were offered drugs in 2011, making this the most-approached demographic.
Analysis shows that of those offered an illicit drug in Scotland over this time period, 43 percent had actually taken one and 28 percent of those offered claimed not to have taken an illicit drug.
Cannabis was the most commonly offered drug among school children in Scotland, as reported by nine percent of 13-year-olds and 36 percent of 15-year-olds.
When asked about New Psychoactive Substances (NPS), six percent of 15-year-olds reported being offered mephedrone, two percent Spice and one percent benzylpiperazine (BZP). This can be compared to 11 percent of 15-year-olds being offered ecstasy and ten percent being offered cocaine.
School children in Scotland were also asked about the perceived availability of drugs, to which 15 percent of 13-year-olds and 41 percent of 15-year-olds responded that they were "easy" to obtain.
Results compiled in 2011 from the Young Person's Behaviour and Attitudes Survey (YPBAS) in Northern Ireland showed that, among 12-16 year-olds, 15.2 percent had used a drug at some point; 11.3 percent had used a drug in the last year, and 7.1 percent had used a drug within the month prior to taking the survey.
Until the age of 15, people's drug of choice was most commonly solvents. Amongst older pupils, cannabis was the most commonly used drug – 17 percent reported recent use, including ten percent in the month prior to taking the survey. Solvents and cocaine powder were reported to be the second most commonly used drugs among 16-year-olds, followed by ecstasy.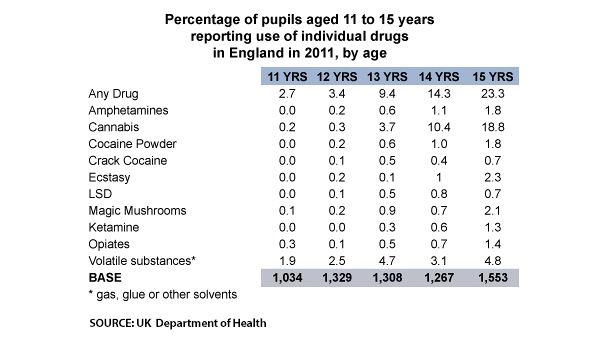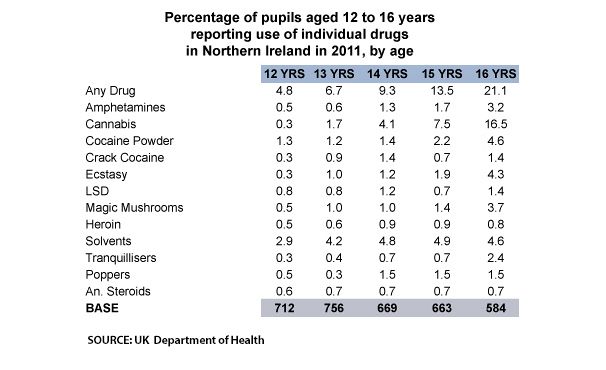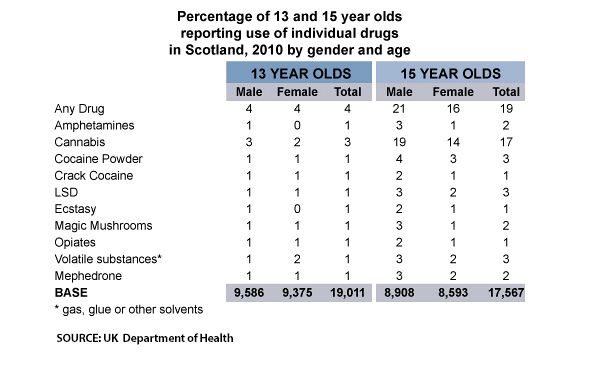 Trafficking
The trafficking routes and drug supply chains to the UK are well-established. As the most commonly-used drug, cannabis is still imported in large quantities from Europe. But cannabis cultivation within the UK has seen a significant increase over the past five years.
Drugs distribution within the UK is described in the United Kingdom Drug Situation report as "increasingly complex and diverse". For example, many traffickers import and distribute several types of drug at the same time. Bigger cities, such as London, Birmingham and Liverpool have traditionally been important drugs distribution centres, and continue to be so, but smaller cities are now also involved. Scotland's main source of heroin comes from the north east of England, via Glasgow, and organised crime groups in Merseyside have a significant impact on drug supplies into Wales.
The size of the illicit drug market in the UK has most recently been estimated at between €6.3 billion and €7.9 billion. In Scotland alone, the estimated size of the illicit drugs market is €1.7 billion.
The prices of heroin, cannabis herb and resin have reportedly increased at a wholesale level. Most drug prices at a street level have remained stable, apart from cannabis, which has seen an increase.
Prevention and treatment
School-based drug education is considered an integral part of universal drug prevention in the UK. Other preventative measures include mass media and campaigns, and community prevention. National drug information campaigns have been running for several years throughout the UK. The FRANK service – offering "friendly, confidential drugs advice" – has been re-launched in England. Similarly, Know the Score is ongoing in Scotland and further funding has been provided for training on NPS. Wales has reported increased use of their DAN 24/7 drug and alcohol helpline.
Community prevention includes the Positive Futures diversion and prevention programme in England, which targets 10 to 19-year-olds thought to be "at risk". Scotland's Inspiring Scotland 14 to 19 fund, which aims to assist vulnerable youngsters, has received recent further investment.
The government has also pledged support for a database housing information and evidence relating to the impact and effectiveness of prevention initiatives.
The Pooled Treatment Budget (PTB) in England remains steady at €485.3 million. There is now a recovery element included in the money allocation, which is based upon the number of people who leave treatment free from dependency and don't re-enter within six months.
Data from Scotland show that between April and June 2012, the target of 90 percent of people accessing treatment within three weeks was achieved ahead of schedule.
Overall in the UK, there was a decrease in the total number of presentations to treatment between 2009 and 2011. According to the United Kingdom Drug Situation report, "Cannabis now accounts for one-fifth of all treatment presentations and one-third of first ever presentations."
UK Drugs Policy
The latest figure for labelled public expenditure (spending that has been budgeted in advance) on drugs is estimated at €1.3 billion. Expenditure has decreased by at least 0.5 percent. Unlabelled – or non-budgeted spending on drug expenditure (including law enforcement costs for drug offences, drug-related crime, drug-related health costs, personal social services and drug-related welfare benefits) is estimated at €7.5 billion, 70 percent of which is believed to cover law enforcement expenditure.
> Read our article about UK drugs policy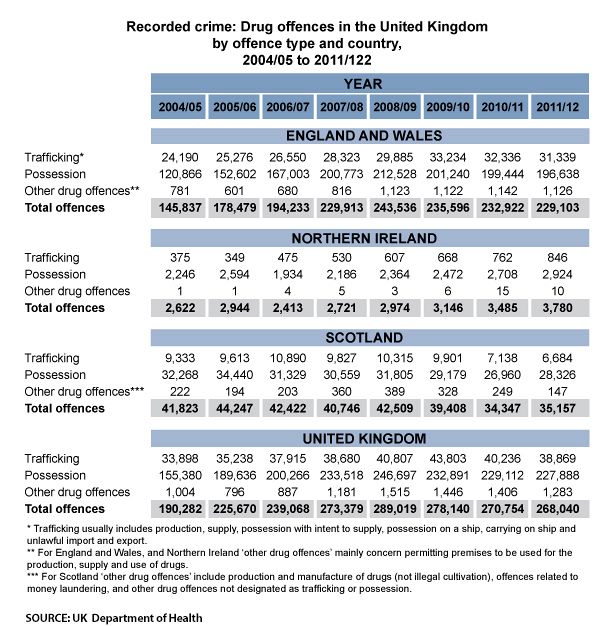 Sources:
Primary sources:
Secondary sources: