Draft bill could see Russian parents lose custody of a child - because they're gay
Comments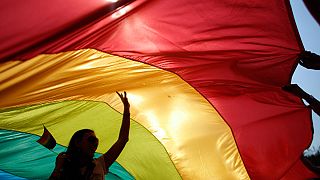 Gay parents in Russia could lose custody over their children if a draft bill is approved, it has emerged.
The bill would make the "fact of non-traditional sexual orientation" a basis for denying custody, Associated Press report.
It is the latest controversy to engulf gay rights in Russia and comes in the wake of a bill banning homosexual 'propaganda' to youngsters.
Russian MP Aleksey Zhuravlev, proposing the draft bill, wrote: "Following the letter of the law that forbids propaganda of non-traditional sex to minors we must restrict such propaganda not only in mass media but also the family.
"If one of the child's parents indulges in sexual contact with persons of the same sex, the damage to the child's psyche is immense, as a mother or father serves as an example for their offspring."
At the moment Russian law lists alcohol and drug addiction, premeditated crime against a child's life as examples of when there would be sufficient grounds to deprive someone of parental rights.
Nikolay Alekseyev, a prominent gay rights activist in Russia, told the Interfax news agency: "The president has said that the rights of people of homosexual orientation are not infringed in our country. Such initiatives create unwanted tensions between Russia and the West."
The latest controversy comes after Mikhail Diegtiariov, a mayoral candidate in Moscow, proposed amending an existing law to ban homosexuals from donating blood.
The clampdown on gay rights prompted protests this week in more than 33 cities ahead of the G20 summit in St Petersburg.
Despite the controversy Russia is not considered one of the most hostile countries for homosexuals.