Education faces a possible future without teachers
Comments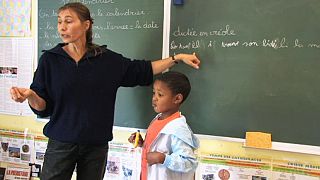 Education is evolving fast, with new technologies and teaching techniques emerging to meet the needs of the modern world, and many teachers are following suit. So will their role be radically transformed in the future? Teachers and educationalists give us their views in this edition Learning World.
Starting from scratch: Libya
In Libya education, like many other services, is emerging from the rubble of the Gaddafi era. Two years after the revolution many things have changed. Teaching staff are turning away from the old regime's politically-oriented teachings, and acquiring new skills like learning how to use computers.
Bringing knowledge to the wilderness: La Reunion
We meet Anne Christine, who must walk more than three hours every week to reach the small school of a dozen pupils, located in the mountains of Reunion Island. She is an exemplary teacher, very brave, who is not afraid of hard work. She is very demanding for herself and her pupils, and manages many ambitious projects. Clearly, for her, teaching is more than just a job.
Calls to Newcastle
Despite inspirational teachers like Christine some people are asking if teachers are still needed at all? Do schools even have to exist in their traditional form? Professor Sugata Mitra is an education expert and winner of the TED 2013 prize. Some of you might be familiar with his 'Hole in the Wall' project shown on previous episodes of Learning World. We met Sugata again in his home town of Newcastle in England, and got some revolutionary answers.
Bonus
TED winner Mitra warns teachers to be ready for change
Students, parents and teachers are all welcome to join the lively debate on our social media pages.