How angry are the Europeans really, over the US spying on them?
Comments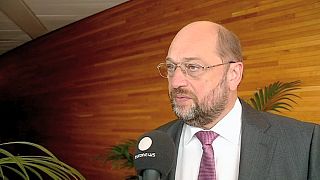 Spying on friends… it could be the title of a work of fiction, but it's just what Europeans have been up in arms about; according to arch whistle-blower Edward Snowden that the American espionage programme Prism included them.
Demanding explanations, some outraged voices have even suggested Europe think twice about future trade agreements with the US.
Britain's Guardian newspaper, and then Germany's Die Spiegel, said European delegations have been spied on in Washington, in Brussels and at the United Nations.
But both Chancellor Angela Merkel's spokesman and the European Commission President have kept on speaking in the conditional, saying we have to see if it is true.
The Commission's Jose Manuel Barroso said: "If this is proven, it would be very disturbing and raise serious and very important concerns. This is why as soon as media reports were released we immediately requested a full and immediate clarification of the matter from the US."
French President François Hollande said: "We can't accept this kind of behaviour between partners and allies. What are the consequences? First of all, it must stop as soon as possible – I was going to say immediately. Next, negotiations or transactions in all areas can only be entered into after we have guarantees."
Brussels-Washington relations, then, have chilled. But quite a few sources have said the Europeans aren't really that upset, and are taking the whole thing with a pinch of salt. This French former intelligence officer suggested that getting all worked up might be childish.
Claude Moniquet said: "To be surprised today could be a little bit naive. It could be hypocritical. I'm quite sure that some European countries – certainly Germany and France – spy on the United States when they can."
President Obama, for his part, doesn't seem to be taking the whole anger thing very seriously – not among those who've been spied on at home or abroad. He hasn't denied it, saying, 'Of course it's true!'
Obama said: "Every European intelligence service, every Asian intelligence service, wherever there's an intelligence service, here's one thing they're going to be doing: they're going to be trying to understand the world better, and what's going on in capitals around the world. If that weren't the case, then there would be no need for an intelligence service. I guarantee you that in European capitals there are people who are interested in… if not what I had for breakfast, then what my talking points might be should I end up meeting with their leaders."
That suggests a new era of transparent espionage.