EU leaders reach 2014-2020 budget agreement
Comments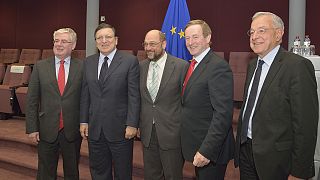 It has been announced that the presidents of the three institutions of the European Union: the Commission, the Council and the the European Parliament, have reached a political agreement on the budget for 2014-2020.
The Multi-annual Financial Framework is a seven year budget that designates money to EU programmes, ranging from foreign policy to transport. The 690 billion euro budget will also provide funding for the poorest areas and projects that aim to enhance growth.
Martin Schulz, President of the European Parliament hinted at some dissatisfaction with the agreement saying, "This is not an easy compromise…This is now a question of mutual trust. I hope that all member states will follow one member state – Ireland – who did a great job… I can live with the result and I will fight for the result."
The decision still needs to be approved by a majority of 754 MEPs. The parliamentary vote is currently set for July 9.
Deal on #MFF EU budget means money promised will be delivered to European citizens. Thank negotiators. Must ensure a majority in #EP.

— Martin Schulz (@MartinSchulz) June 27, 2013
The President of the European Commission, José Manuel Barrosso said in his press statement : "This is a good deal for Europe, this is a good deal for European citizens, this is a good deal for the European economy. The deal includes more flexibility on both payments and commitments. The deal includes frontloading of expenditure on critical issues like youth employment, research, youth, namely Erasmus, and also SMEs."
Ireland's Prime Minister Enda Kenny, who was representing the member states agreed to more flexibility that had been demanded by the European Parliament. Currently, funds that are not used cannot be carried over to the following year, but this increased flexibility would allow these unspent funds to move between budget headings and fiscal years. The EU leaders have also agreed to bring forward, in the seven year period, funding for youth projects regarding employment, research and education and more support for medium-sized businesses.
crédit photo: Commission Européenne