Europe's newest passenger jet, the Airbus A350, successfully took its maiden flight on Friday.
Around 10,000 spectators, including many Airbus employees, watched as the jet took off from Airbus's Toulouse plant under cloudy skies. The plane, with its curled wingtips, was carrying a crew of six people equipped with parachutes and orange jumpsuits, along with tonnes of test equipment.
The flight, led by two British and French former fighter pilots, was expected to last four hours and is the result of eight years of development that have cost more than 11 billion euros.
Airbus and Boeing – with its 787 Dreamliner – are engaged in a battle for supremacy in a new generation of lightweight carbon-composite jets designed to save fuel and open new long-distance routes.
A350 flyby expected at Le Bourget
Our Paris correspondent Giovanni Magi"We are confident that we can make the first flight of the A350 at the same time of Le Bourget air show in 2013." That's what Airbus' top manager told me in May 2011, when I was filming a story for our aviation magazine "Fly" in Toulouse. And that confidence turned out to be well founded with the maiden flight performed Friday, June 14, not an easy task when it comes to launch an all-new airliner.
Now the general public expects to see up-close the newest member of the Airbus family. A flyby is scheduled in the skies over Le Bourget next Friday or Saturday, probably at a time when French President François Hollande visits the exhibition.
The A350 should make a low pass over Le Bourget's runway, in a 'missed approach'; she will not touch the ground before resuming her route to Toulouse. To make the fly-by possible, the prototype will need to have accumulated at least 10 flight hours in tests over the next few days.
Follow the Bourget Air Show on www.euronews.com and on Twitter. I am @magibiz
The route for the new A350's maiden flight – screengrab from flightradar24.com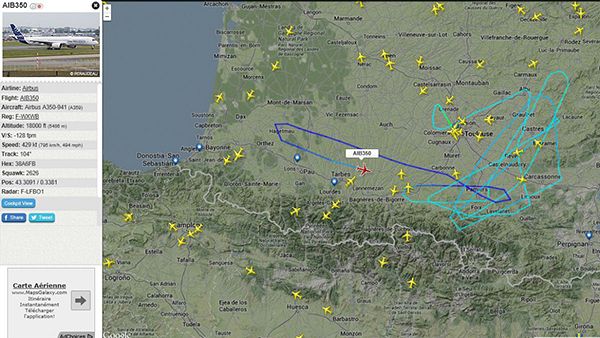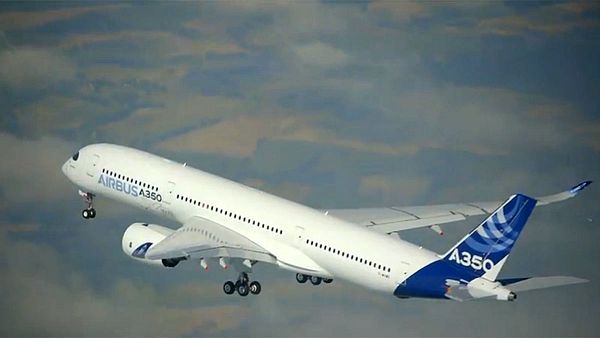 REUTERS