Are Roma citizens being treated equally in the EU?
Comments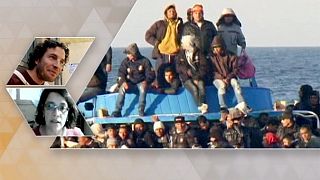 "My name is Vincent, and my question concerns what happened to the Roma one year ago. Is it normal they were removed from France when they are in the Schengen space and are Europeans? I find it odd to shift them from country to country like that, and I want to know: why?"
Claudia Charles of the Immigrant Rights Group GISTI explains:
"We can say it's not normal to be able to expel them, rather than relocate them, expel the Roma."
"The Roma people from Romania and Bulgaria are European citizens like those of the other 25 nationalities which make up the European Union today. But this is distinct from the Schengen space, which is not quite the same thing."
This means that the 25 Schengen agreement countries are not all EU members, and not all the EU states are in Schengen, just 22 of them out of the 27 are in this internal borders free area. Romania and Bulgaria are not yet part of it.
The non-EU Schengen countries are Iceland, Norway and Switzerland. The EU countries outside Schengen are the UK, Ireland, Cyprus, Romania and Bulgaria.
Claudia Charles continues:
"Everything that France did last year and is still doing this year borders on illegality, because while it is true that an EU citizen has certain obligations in order to reside legally in an EU state other than his own, we also know that the Roma are the target of discrimination, in seeking employment, access to housing and access to education."
"These questions do not only concern the Roma. They are grabbing headlines today, since, as everyone knows, France and Italy have asked jointly that the European Commission and the Council modify the conditions of free circulation within the Schengen space."
"We'll see how things unfold, we'll see what the European Commission's proposes about the conditions for crossing the EU's internal borders. It is always necessary to highlight that, unfortunately, with the arrival of Tunisian migrants the principle of free movement is being scrutinised in a way that not only hampers migrants but could also hamper free circulation for EU citizens within the European space."