German cabinet approves more cuts
Comments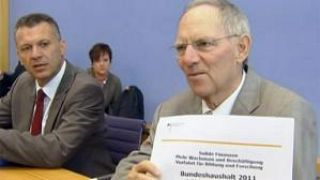 Germany's cabinet has agreed an 80 billion euro austerity plan intended to slash the country's budget deficit over the next four years.
It was a victory for Chancellor Angela Merkel. Domestic critics have said her measures are unfair while outside Germany they have been called a threat to the global recovery.
Merkel's Finance Minister Wolfgang Schäuble said: "We are on a path which can in a sustainable manner reduce the high deficits and which in an important way ensure that the economic development of our country will proceed in a sustainably positive manner."
The budget, going before parliament by the end of November, already includes healthcare savings worth 7.5 billion euros in the next two years.
Welfare spending reductions total over 30 billion euros, mostly involve spending cuts for the long-term unemployed.
Proposed defence cuts total 9.3 billion euros include buying fewer A400M transport planes and fewer NH-90 and Tiger attack helicopters and Eurofighter combat jets as well as taking other aircraft and ships out of service.