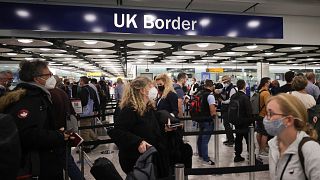 Copyright

REUTERS/Hannah Mckay
-
Travellers entering the UK on 1 February could face long queues at airports and seaports as Border Force workers go on strike.
Train drivers across the country will also be taking part in widespread industrial action on Wednesday which could bring rail services to a standstill.
Members of the Public and Commercial Service (PCS) union, including Border Force staff, previously walked out over the Christmas and New Year period. Now they are set to take part in what PCS says will be the "largest civil service strike for years". 
Thousands of train drivers from the Aslef and Rail, Maritime and Transport unions will also walk out on the same day over pay and working conditions. 
Half a million workers in the UK across a range of industries are planning to take part in industrial action in what could be the country's biggest strike day in over a decade.
When are train drivers going on strike?
Train drivers across the UK are striking on 1 and 3 February over pay, job cuts and changes to terms and conditions. Unions say any pay offers should reflect the rising cost of living which is currently over 10 per cent. 
15 rail operators have confirmed they will be running no services on either day. This includes Avanti West Coast, the Heathrow Express, Gatwick Express and CrossCountry.
Three more, Greater Anglia & Stansted Express, Great Western Railway and LNER, will be running a reduced service. 
Trains that do run will start later and finish earlier from around 7:30 am to 6:30 pm. Roughly 30 per cent of rail services are expected to run but this won't be evenly spread across the country. The Rail Delivery Group has warned that there could be some parts of the country that don't have any trains. 
Some evening services the day before and morning services the day after the strike could also be affected. 
Where are Border Force strikes taking place?
While the initial Border Force strikes primarily targeted UK airports, those on 1 February will also include ports. 
International arrivals at all UK airports and ports including Dover will be impacted. UK border controls at Calais, Dunkirk and Coquelles in northern France are likely to be affected too. 
The industrial action will start on 1 February and last until 7 am on 2 February. 
The government has advised travellers planning to enter the UK on this date to check the latest travel advice and be prepared for longer queues than normal. Anyone who can use eGates is also being advised to do so.
"If you are travelling into the UK via any entry point, you should prepare for disruption and check before you travel," the Home Office and Border Force said in a statement. 
Last summer, holidaymakers faced hours-long delays at the Port of Dover because of slow border checks caused by staff shortages and new Brexit controls.
Since Britain left the European Union in 2020, UK travellers face stricter border checks when travelling to the continent. At Dover, they are performed on the English side of the channel by French staff.
How did Border Force strikes impact Christmas travel?
During the Christmas Border Force strikes, passport checks at Heathrow, Gatwick, Manchester, Glasgow, Cardiff and Birmingham were affected. Border Force staff at the port of Newhaven, East Sussex, were also included in the strikes.
In response, the government drafted more than 800 military personnel and civil servants to staff entry gates.
Heathrow was challenged with recruiting and training up to 25,000 security-cleared staff before the festive period, a task the airport described as "a huge logistical challenge". Passengers who were not eligible to use eGates faced longer wait times at Border Control.
At Manchester Airport, 200 new security staff are being recruited, but won't start work until April 2023.
More than 10,000 flights carrying up to 2 million passengers arrived at the affected airports during the strike period, according to aviation analytics company Cirium.
How might the government reduce disruption?
"Military personnel, civil servants and volunteers from across government are being trained to support Border Force at airports and ports across the UK in the event of potential strike action," the UK government said in a statement. 
"Border Force are ready to deploy resources to meet critical demand and support the flow of travellers and goods through the border, however, those entering the UK should be prepared for potential disruption." 
But the head of the armed forces said during previous strikes that they should not be thought of as "spare capacity" for striking workers. 
"We're busy and we're doing lots of things on behalf of the nation - we've got to focus on our primary role," chief of defence staff Admiral Sir Tony Radakin told the Sunday Telegraph.
Is there a danger of problems with passport checks?
Steve Dann has insisted that safety and security at borders will be "non-negotiable" during strike action.
However, unions have warned that military personnel are not properly qualified to carry out these jobs. PCS said that Border Force members "are specialists in their fields and can't be replaced by people with just days of training."
Why are border force officials striking?
The strike is part of a larger coordinated action by thousands of civil servants. 100,000 PCS members in 214 government departments and other public bodies voted to take action
Members are demanding a 10 per cent pay rise, citing eye-watering inflation of 10.6 per cent. 
Mark Serwotka, the PCS general secretary, said that the strike would cause "significant disruption" - but added that the cost of living crisis has left workers "desperate" with no choice but to strike.
"We have no option but to take industrial action because our members are using food banks and not able to switch on the heating right now," he said.
"The government can stop these strikes tomorrow if it puts money on the table."