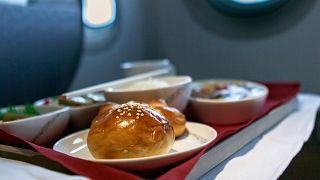 -
Copyright

Getty via Canva
Inflight meals can be a hit or miss experience - especially if you are vegan or vegetarian.
The food on offer can vary from the heights of gourmet meals created with some of the most famous plant-based brands all the way down to a boiled apple (a real meal served to one of our Euronews Travel team members on a recent flight).
But for the most part, the days when you had to bring your own snacks on board are long gone.
So what is there to eat mid-air and which airlines have the most innovative vegan options?
Japan's biggest airline improves its vegan options
In November, All Nippon Airways (ANA) made several vegan meals available on flights departing from Japan. The airline says it has seen increased customer demand for vegan options on international flights and the changes are a response to requests from passengers.
Prepared in partnership with chef Hideki Takayama of Taiwan's Michelin-starred Paris 1930, the vegan options include green curry with rice and a side dish of cauliflower and tofu mousse.
Chef Takayama said that despite the challenges of avoiding dairy, eggs, fish and meat, ANA's inflight menu is "unlike any other".
The new options also include more choices for vegetarians and a gluten-free meal. Customers must request these special meals at least 24 hours before their flight's scheduled departure time or telephone to ensure they are available.
Qatar Airways puts gourmet vegan dishes on the menu in Business Class
Last year, Qatar Airways added vegan options to its a la carte menu for the first time. This means vegan passengers in Business Class no longer have to make a special request for their meal in advance.
Past options have included tofu and spinach tortellini, barbecue tofu with noodles, and a chickpea flour omelette. The menu is available on all flights out of the airline's hub at Hamad International Airport and some flights into Doha.
But if you don't have the money to fork out for an upgrade, Economy Class passengers can still order a vegan or vegetarian meal in advance.
Singapore Airlines gets top marks for its vegan food
The food on Singapore Airlines is consistently rated as some of the best - but what if you are vegan?
The carrier operates some of the world's longest flights and has in recent years dramatically improved its vegan options. Singapore Airlines brought in a chef from California-based luxury spa Golden Door to help design a more veggie-focused menu.
Its vegan meals are cooked Western-style and can include things like spaghetti marinara. And they have a good reputation with vegan travellers for their excellent dining experience.
Emirates continues to lead the way in vegan dining
Emirates started offering vegan meals on certain flights in the 1990s to cater to religious requirements. As the popularity of plant-based diets has grown, it has seen the interest in vegan dishes skyrocket and is now leading the way with more than 170 different options.
According to the airline, there was a 154 per cent increase in the number of vegan meals served between 2021 and 2022. Last year, over 280,000 plant-based meals were consumed on board.
Emirates is consistently rated as one of the best carriers for vegan food and has just developed a more refined menu for its First and Business Class Passengers. This includes chef-curated meals like chocolate truffle cake with hazelnut and pistachio, topped with gold leaf.
Customers can request vegan meals on all Emirates flights across all classes of travel up to 24 hours before departure. If you are travelling on a high-demand route, they may even be provided as part of the main menu options on board.