24/03 18:38 CET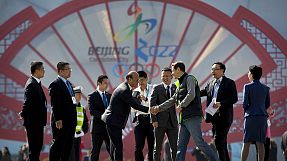 The International Olympic Committee's Evaluation commission visited the proposed venues and sites in Beijing on Tuesday. Headed by Russian member
17/03 14:57 CET

The German Olympic Confederation officially selected Hamburg over Berlin…

10/03 18:51 CET

The race is on between Berlin and Hamburg for the right to become the…

01/03 11:33 CET

The controversial Rio Olympic golf course was once again in the spotlight…
London 2012 Special features
the New Media team at euronews has traced the history of the Olympics, with photos, videos and text, in the timeline below. we also looked at how many medals each country has won since the Games began, calculating an average of how many medals per Games. We also looked at the relationship between a country's medal success and its population and GDP. Feel free to have a play with our interactive medal table!
You can also read our in-depth report: What does it take to win al Olympic medal?