Rescue efforts continue in Turkey and Syria with more than 4,600 people dead after quake
Comments
By Euronews with AP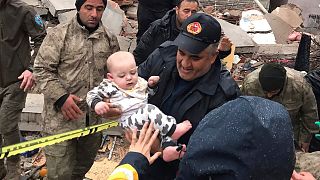 A powerful series of earthquakes rocked wide swaths of Turkey and neighbouring Syria on Monday, killing at least 4,600 people and injuring thousands more as it toppled hundreds of buildings and trapped residents under mounds of rubble or pancaked floors.
The US Geological Survey measured Monday's pre-dawn quake at 7.8, with a depth of 18 kilometres. Hours later, a 7.5 magnitude one struck more than 100 kilometres away.
Authorities fear the death toll will rise further as rescuers searched through tangles of metal and concrete for survivors in a region beset by more than a decade of Syria's civil war and a refugee crisis.
Residents jolted out of sleep by the early morning quake rushed outside in the rain and snow to escape falling debris, while those who were trapped cried for help. Major aftershocks continued to rattle the region.
"I don't have the strength anymore," one survivor could be heard calling out from beneath the rubble in the Turkish city of Adana, as rescue workers tried to reach him, said a resident, journalism student Muhammet Fatih Yavuz. He said three buildings near his home were toppled.
The quake, which was centred near the southeastern city of Gaziantep, sent residents of Damascus rushing into the street and was felt as far away as Cairo and Beirut.
"Because the debris removal efforts are continuing in many buildings in the earthquake zone, we do not know how high the number of dead and injured will rise", Turkish President Recep Tayyip Erdoğan said.
The quake piled more misery on a region that has seen tremendous suffering over the past decade. On the Syrian side, the area affected is divided between government-held territory and the country's last opposition-held enclave, which is surrounded by Russian-backed government forces. 
Turkey, meanwhile, is home to millions of refugees from the civil war.
The region sits on top of major fault lines and is frequently shaken by earthquakes. Some 18,000 people were killed in similarly powerful quakes that hit northwest Turkey in 1999.
The second large jolt in the afternoon caused a multistorey apartment to topple face-forward onto the street in the Turkish city of Sanliurfa, smashing into rubble and raising a cloud of dust as bystanders screamed, according to video of the scene.
Orhan Tatar, an official from Turkey's disaster management agency, said it was a new earthquake, but Yaareb Altaweel, a seismologist with the USGS, said it was considered an aftershock because it took place on the same fault line as the first.