Pope Francis vists South Sudan with a message of peace and reconciliation
Comments
By Euronews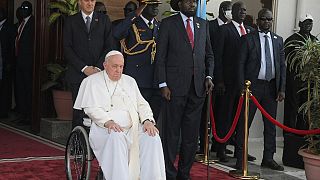 -
Copyright

TIZIANA FABI/AFP or licensors
Pope Francis arrived in South Sudan on Friday for the first time since the predominantly Christian nation gained independence from Muslim-majority Sudan in 2011.
The three day visit comes after his stay in the Democratic Republic of Congo, and is aimed at rekindling a stalled peace process in the young nation, by pleading for tolerance and forgiveness.
The Pope joined the Archbishop of Canterbury, Justin Welby, and the moderator of the Church of Scotland, the Rt. Rev. Iain Greenshields, in the South Sudanese capital, Juba, in a joint Church push for peace.
In 2013, a bloody civil war broke out in the country leaving 380,000 people dead, and four million displaced.
In June 2018, a peace deal was reached, with opposing political groups signing a power-sharing agreement, but there have been delays in its implementation.
There continues to be outbreaks of fighting, including attacks this week that killed 27 people.
The Pope's tour is aimed at drawing attention to what the Vatican considers to be overlooked conflicts, and to further the influence of the Catholic Church in a region where its popularity is growing.