World marks the third anniversary of the start of the Covid-19 pandemic
Comments
By Euronews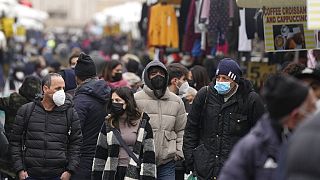 It has been three years since the World Health Organization declared Covid-19 a public health emergency of international concern -- its highest level of alarm.
Since then, the virus has claimed close to seven million lives, of which two million are in Europe alone. But some experts say this data is an underestimation.
Compared to 2020, one factor above all has had a massive impact on the situation - the rollout of Covid-19 vaccines developed in an unprecedented short amount of time.
Public health expert, Professor Jeffrey Lazarus, says several sub-variants of Omicron are currently infecting thousands in Europe, and continuing to claim lives.
And there is one other major concern troubling the scientific community. The millions of Europeans who have had, or still have, long Covid.
'But we don't know exactly how many,' says Lazarus. 'It's one of the important pending, and I would say urgent issues for European health authorities. To monitor the long Covid situation. It's very serious."
And, he says, it is not yet certain whether vaccine boosters should be recommended to fight the long-term version of the illness.
Greece, Germany, and Spain were the last European countries to make facemasks mandatory in certain closed areas, but that rule is about to be lifted.
Lazarus warns that people must remain highly vigilant. He says we are still in a state of pandemic and that governments must continue to fight against vaccine hesitancy.
'We learned that in spite of all the preparations that were in place, we were not ready for this pandemic, and the general population was completely taken by surprise, as were many governments,' he says.
Scientists warn that Covid-19 is likely to be with us for quite some time, and other pandemics are also on the horizon due to how close humans and animals live together because of factors such as climate change and intensive farming.
But the good news, says Lazarus, is the world now knows the importance of pandemic preparedness, and that will stay with us forever.