Italian police seize €250 million after arresting 56 in 'Ndrangheta operation
Comments
By Euronews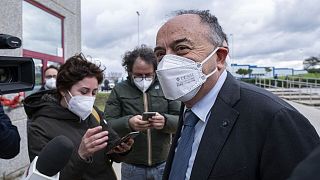 -
Copyright

Valeria Ferraro/LaPresse
Italian police on Thursday morning arrested 56 people throughout the country for links with the notorious 'Ndrangheta crime syndicate, seizing around €250 million worth in assets.
The charges facing the suspects include extortion, kidnapping, arms trafficking, corruption and fraud, among others.
Francesco Messina, the central director of the national police's anti-crime organ, said the "judicial police's powerful operation... has allowed us to dismantle a fierce mafia coterie."
He further added that the "huge sum" of assets seized "confirms the economic power of an 'Ndrangheta clan that's finally been hit."
The police operation comes only a week after one of Italy's most wanted fugitives, notorious Sicilian Mafia boss Matteo Messina Denaro, was arrested in Palermo.
The 'Ndrangheta clan has its roots in the southern region of Calabria, but has now spread across the peninsula and into the rest of the continent. It is heavily involved in smuggling drugs to Europe, maintaining strong connections with South American cartels.