Juventus fans angry after dropping to tenth place due to points deduction
Comments
By Euronews with EBU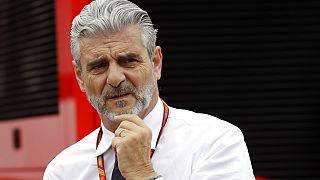 -
Copyright

Luca Bruno/Copyright 2017 The AP. All rights reserved.
After being docked 15 points by the Italian Football Federation, Juventus have fallen from third to tenth place in the country's top table, Serie A.
It's a serious blow for the Turin side and one that could have major repercussions for the club's fortunes this season and beyond.
National Association Friends of Juventus and professor emeritus of the University of Turin, Paolo Bertinetti, thinks the punishment is designed to hit the club hard.
"(They inflicted) the necessary number of penalty points to prevent Juventus from qualifying to the Champions League, and not even the Europa League," explained Bertinetti. "Of course, Juve could win the Coppa Italia and at that point by rights, they would go on to play in the Europa League. But at that point, with the proper paperwork, UEFA would still find the ploy to exclude Juve from the Europa League as well".
"It would be fair to involve the other teams too," said this woman, "because it is not fair that only Juventus loses out, well given that it's a joint stock company, Juventus has different obligations to its shareholders."
Of course, it's a different story from the supporters of rival teams, like this man who was asked what he thinks about the court's decision.
"I'm very happy," he replied, "because I'm a Torino fan.