Biden's National Security Advisor reaffirms US commitment to Israel
Comments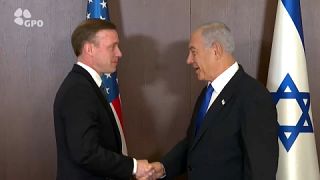 President Joe Biden's National Security Advisor, Jake Sullivan, is the first senior US official to visit Israel since Benjamin Netanyahu began governing in coalition with the far-right.
The Israeli prime minister's partners are known for their racist anti-Arab rhetoric and for opposing the two-state solution advocated by Washington, however, those tensions did not stop Sullivan from reaffirming US support for Israel.
"I bring greetings from President Biden, and as you know his commitment to the state of Israel is bone-deep and America's commitment to Israel is ironclad, and it's a commitment that's rooted in shared history, shared interests and shared values," said Sullivan as he greeted Netanyahu.
The visit is taking place against the backdrop of Israeli-Palestinian skirmishes and the almost daily funerals of the victims of the clashes.
On Thursday, two Palestinians who were killed in an army raid were buried in the Jenin refugee camp. One of them was a teacher who was shot while trying to help a young man who'd been wounded.
The conflict seems more entrenched than ever, something Arab-Israeli citizen Mahe Younis knows firsthand. He has returned to his hometown after spending 40 years in prison for killing a soldier.
Israel banned any celebrations.