Moscow is allegedly preparing to deport some 100,000 Ukrainians to Russia
Comments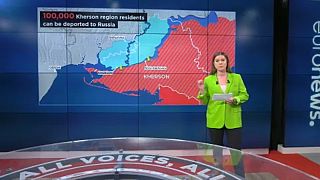 Russian officials and occupation authorities may be preparing for a mass deportation of Ukrainian citizens from occupied territories to the Russian Federation.
The US media giant Bloomberg reported that the Russian Prime Minister, Mikhail Mishustin, issued a government order in mid-December on "revenue mobilisation" that allocated up to €2.5 billion in extra spending for what Moscow calls 'the potential resettlement' of residents from the Kherson region to Russia.
Ukraine's Deputy Prime Minister Iryna Vereshchuk responded to the Russian government's order, stating that Russian officials and occupation authorities may be planning to deport more than 100,000 residents from the Kherson region to Russia under fears that Moscow's forces may lose further territory in war-torn Ukraine.
Vereshchuk also said that Russian officials have forcibly resettled an unspecified number of Ukrainian citizens to 57 regions in Russia, including the Far East and Siberia.
Wartime Deportation
The Institute of the Study of War (ISW) continues to assess that the forced deportation of Ukrainian citizens to the Russian Federation likely amounts to a deliberate ethnic cleansing campaign, in addition to apparent violations of the Convention on the Prevention and Punishment of the Crime of Genocide.
The think tank says that Russian occupation authorities are struggling to coerce residents in occupied territories to accept Russian passports.
Mass deportation Ukraine
According to Ukraine's Deputy Prime Minister, Iryna Vereshchuk, Russia continues to resettle Ukrainian citizens.
Zaporizhzhia's Russian-appointed regional governor, Yevhen Balytskyi, reported that Russian authorities are looking for more employees to work at the Zaporizhia Nuclear Power Plant (ZNPP), as approximately 1,500 ZNPP workers refused to accept Russian passports and sign a contract with the Rosatom nuclear power plant to receive passes to access the ZNPP.
In addition, the ISW said Russian authorities continue to import Russian citizens to serve in civilian roles in occupied territories.
The Kremlin has not commented on reports of forced deportation or the 'filtration' of Ukrainian citizens to Russia.